Mac OS X
If you have a previous installation of the StreamVPN client please ensure that it has been fully uninstalled before attempting to install this current version.
You will need to log in to your StreamVPN account and go to the "Install" tab. From here choose the 'Mac OS X' download option.

If you're downloading the Mac OS X StreamVPN client with Safari or Chrome it will normally automatically unzip itself so that it is ready to be used. The files you download will normally appear in your Downloads folder (see below), unless you have specified another location on your Mac.
The unzipped will appear as such:

Installing the StreamVPN Mac app
If you have the default Security Settings on your Mac, when you double click on the StreamVPN app it will show you that it cannot be installed because it is from an unidentified developer.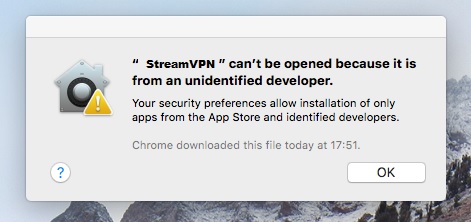 Don't panic, it's just the Mac OS security being extra vigilant! You are seeing this message because every single Mac client is custom built for each customer, so unlike a lot of Mac apps you may install, this one is unique to you. To allow you to install there are two options available:
Option 1
Right click on the StreamVPN app and choose 'Open'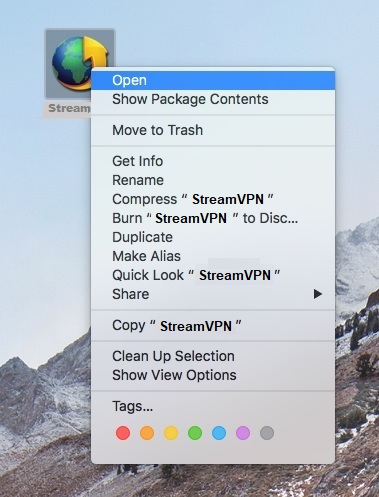 Option 2
Go to Security & Privacy setting in System Preferences and choose 'Open Anyway'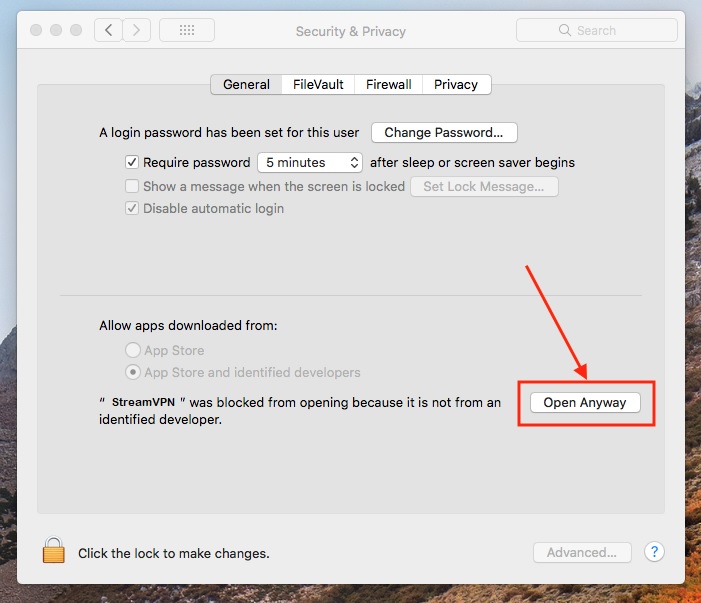 Once you've chosen either of the above options to install (or indeed if your security settings on your Mac are not set as tightly as the default one and you've just double clicked the StreamVPN icon) then you will be prompted with a window checking that you want to open the StreamVPN app.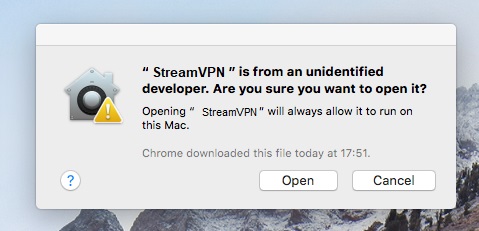 Click on the 'Open' button.
At this point the Mac will ask you for permission to install it in the Applications folder, and you will have to enter your Mac password to allow this to happen.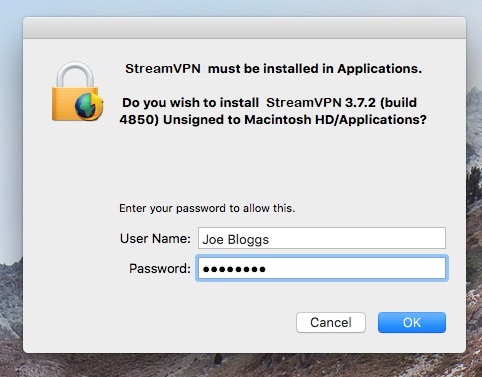 Once you've clicked the 'OK' button the StreamVPN app will be installed and launched for you.
That's it. The StreamVPN app is now installed in your Application folder (so you can delete the one in your downloads folder) and is ready to be used.
You may have noticed a new icon appear in the top right-hand corner of your screen in the Menu Bar.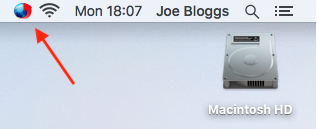 That's the StreamVPN shortcut menu, allowing you to connect and disconnect to the countries you wish to have a VPN connection.
Clicking in the little red globe (red shows it is disconnected) will reveal the drop-down menu with all the countries available.
You will see a menu that looks like this: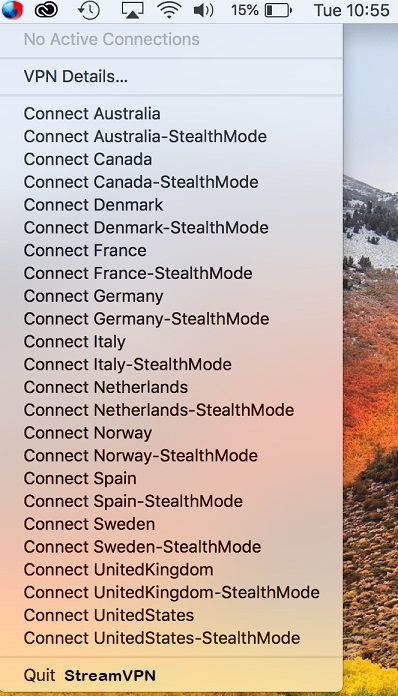 **Please be aware that you CANNOT connect to more than one service at a time**
To connect to the country you want, simply select it from the menu.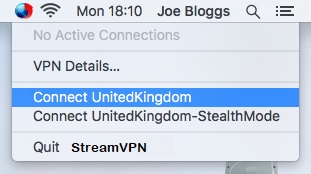 During the connection process the little arrow on the globe will turn Orange and rotate. When you have successfully connected it will turn Green.
The icon will animate to show that it is connecting.
Once the arrow turns green you're good to go!
Stealth Mode
"Stealth Mode" is a VPN connection that adds an additional level of encryption and should used to bypass local restrictions made by the authorities to block VPNs domestically. For example, UAE and China. We recommend you use the Primary connection as the default and only use Stealth mode when required as it does mean a slightly slower connection due to the additional encryption.
Disconnecting
Disconnecting is just as simple. Just repeat the last steps and choose Disconnect Country Name (United Kingdom in this example)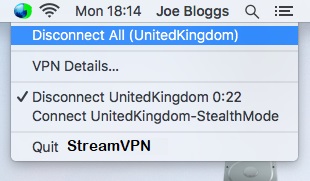 or Disconnect All (Country Name)… basically they both do the same thing.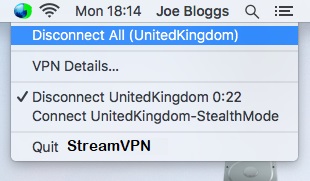 Additional Features
We have some additional features that further ensue your privacy and security on line.
Set up the Kill Switch to ensure that if the VPN connection drops the internet will be immediately disabled to keep your real IP address private.
Click on the StreamVPN globe icon and select "VPN details".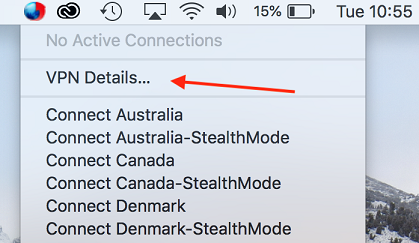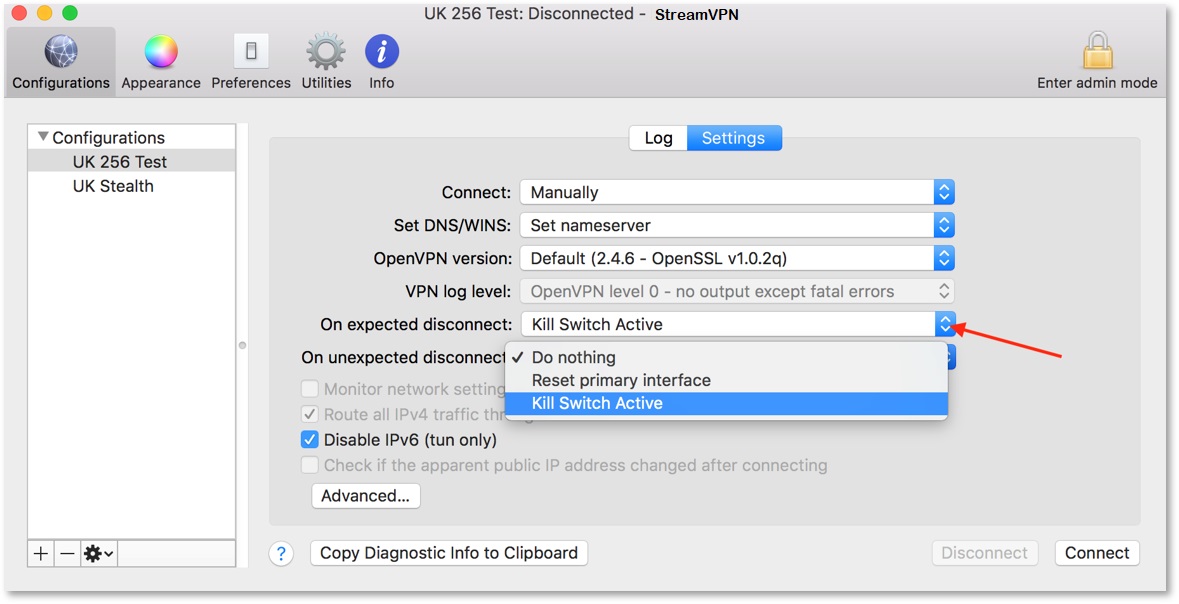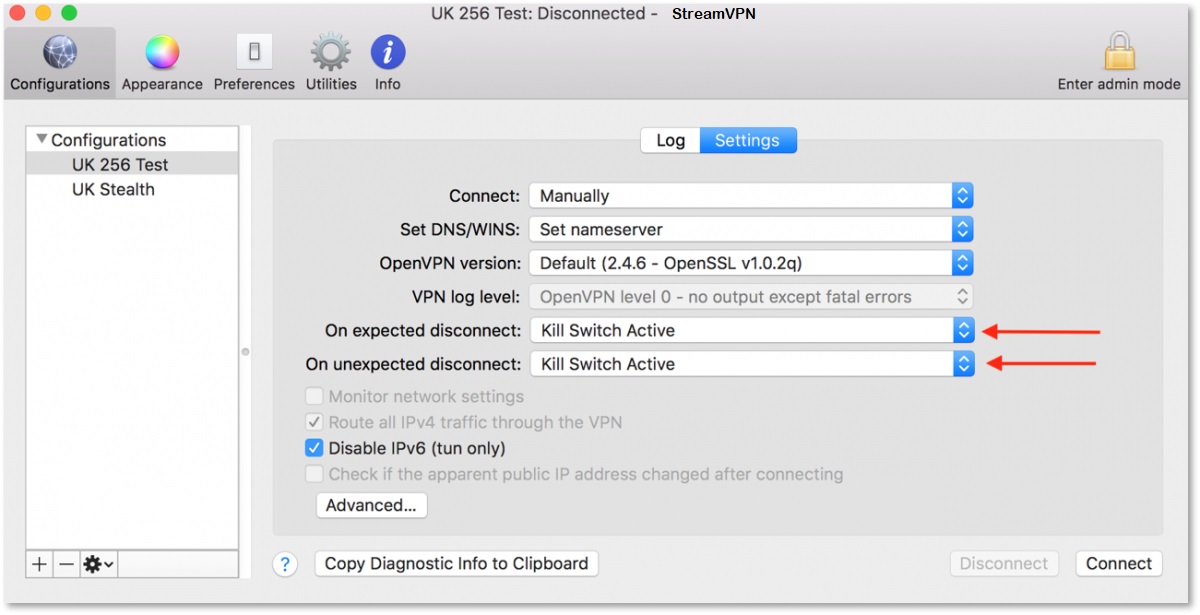 In the event, that the VPN connection is lost and the internet is disabled, simply click on the StreamVPN Globe and select "Re-enable Network Access".